St. Anthony
---
St. Anthony
Saint Anthony of Padua (born Fernando Martins de Bulhões; 1195 – 13 June 1231),[1] also known as Anthony of Lisbon, was a Portuguese Catholic priest and friar of the Franciscan Order. He was born and raised by a wealthy family in Lisbon and died in Padua, Italy. Noted by his contemporaries for his forceful preaching and expert knowledge of scripture, he was the second-most-quickly canonized saint after Peter of Verona. He was proclaimed a Doctor of the Church on 16 January 1946. He is also the patron saint of finding things or lost people.
Product Description
14.5 Inches High
RESIN/STONE MIX
 Indoor
Beautiful Detail
 61368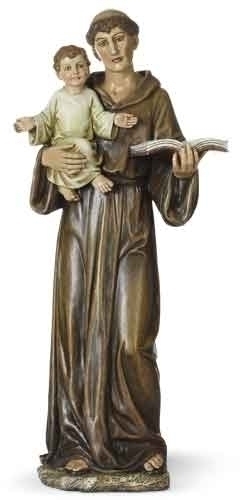 To place an order please call (914) 739-8898 
Our website offers a small amount of what we carry from inexpensive to the very best.
 Please stop by our showroom to see our vast selection and order what best fits your needs.
 Many sets are in stock for quick delivery. Please contact us for additional information.
* Prices are subject to change